Collective bargaining plays an important role in regulating industrial relations, and unions play an essential role in this process. The current state of the South African economy and the Covid-19 health crisis have affected the ability of trade unions to bargain for better wages and conditions of employment.
Despite the difficult conditions, trade unions have managed to negotiate above-inflation wage increases from January to June 2021. This article explores how viable these increases have been amidst the rising prices of basic commodities such as food, electricity and transport. The report describes wage outcomes, but also focuses on a broader range of conditions of employment found in collective agreements collected by the Labour Research Service.
Workers in public sectors did not get wage increases in 2020. Trade unions are at loggerheads with the government over the 2021 wage increases. The wage freeze in the Public Service Coordinating Bargaining Council (PSCBC) in 2020 saw real wages fall by -4.4%. Workers will need to recoup the 4.4% to maintain the buying power of their wages before negotiating increases for 2021.
In 2021, public sector unions put forward wage demands of inflation plus 4%. On the other hand, the government is offering a 1.5% wage increase and a once-off gratuity of between R1, 200 to R, 1696 per month, for the period of 12 months. The percentage increase translates to an increase of R134 per month for employees who earn an entry-level of R8 902.
The South African Municipal Workers Union (SAMWU) clashed with the employer, South African Local Government Association (SALGA), at the bargaining table. Unions tabled the following demands: R4 000 wage increase, R15 000 minimum wage, R3 500 housing allowance, 80% employer contribution to medical aid, 6 months maternity leave with full pay. SALGA offered a mere 2.8%, which translates to R233 per month.
Bargaining in the private sector isn't faring better. Negotiators are also struggling to clinch settlements above inflation. Meanwhile, companies continue to retrench workers and impose various measures, for example, wage cuts and wage freezes.
The prices of food climbed, according to the Household Affordability Index released by Pietermaritzburg Economic Justice and Dignity Group. The cost of the average household food basket was R4 128, 23 in June 2021. In comparison, the national minimum wage is R21.69 for an ordinary hour. The wage level needs to adjust so that workers can at least secure the three core goods and services, i.e food, electricity and transport.
The annual inflation rate as measured by Statistics South Africa's CPI was 5.2% in May 2021 compared to 4.4% in April 2021.
Unemployment Rate | Q1 2021
The unemployment rate increased to 32.6% in Q1 of 2021, from 30.1% in Q1 of 2020. This translated to a percentage change of 2.5% year-on-year. The rate increased from 32.6% in Q1 2021 to 32.5% in Q4 2020. This translated to an increase of 0.1%.
Real gross domestic product (measured by production) increased at an annualised rate of 4.6% in the first quarter of 2021, following an increase of 5.8% in the fourth quarter of 2020.
The analysis of the data presented here is drawn from our Actual Wage Rates Database (AWARD). AWARD stores information on nominal and real median minimum wages in all sectors of the economy. We've, therefore, only considered nominal and real median minimum wages of low occupations within the sectors under review.
An estimated 365 864 workers are covered by a sample of 107 selected collective agreements drawn from bargaining council and company-level agreements.
The category of worker used is generally a minimum entry-level wage or the lowest wage in the bargaining unit.
Cash wage or nominal wage: A cash wage or nominal wage is the amount of money that the employer pays the workers. In other words, it is the wage that a worker earns. For example, if a worker earns R3500 per month then, that is the worker cash wage.
Real wage: Means the value of the wage in terms of what it can buy-the buying power of the wage. It is called a real wage because it has taken into account the effects of rising prices (inflation) on wages.
Median wage: A median wage is a boundary between what the highest 50% of earners are paid and what the lowest 50% of earners are paid. Thus if the median wage in South Africa is R3 508 this means that 50% of workers are earning above the median and 50% are paid below.
Median: is the number found in the middle of a range of numbers. For example: if the range of numbers is 2, 4, 6, 8, 10, 12, 14, 16, 18 then the median is 10.
Figure 1 below describes industry median settlement levels from January to June 2021. The figure also tracks inflation over the period and shows what the real wage increase has been for the six months.
Mining attained the highest percentage wage increase of 8%. If we take into account the May 2021 inflation rate of 5.2%, workers gained a real wage of 2.8%.
Construction recorded a wage median wage increase of 4%, if we take into account the May inflation rate of 5.2%, workers gained a real median percentage wage increase of -1.2%.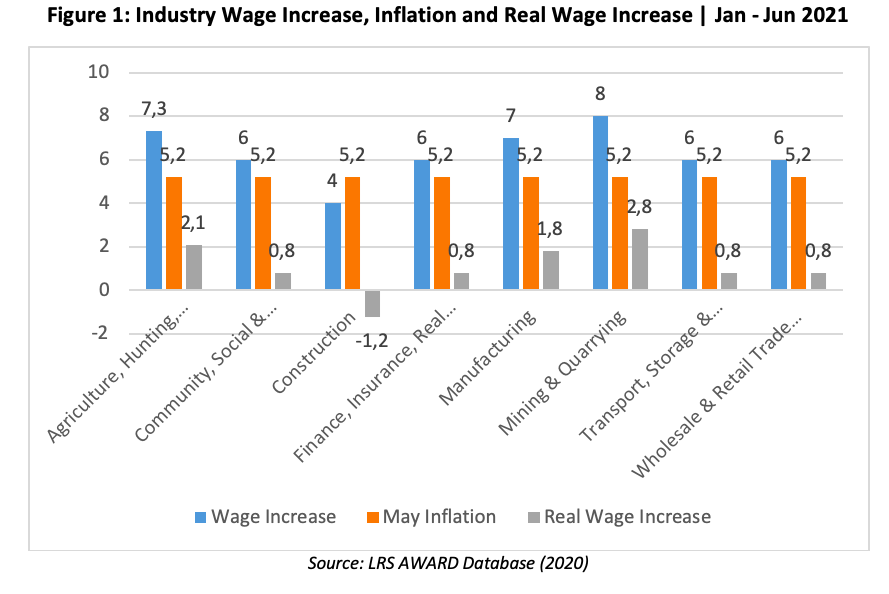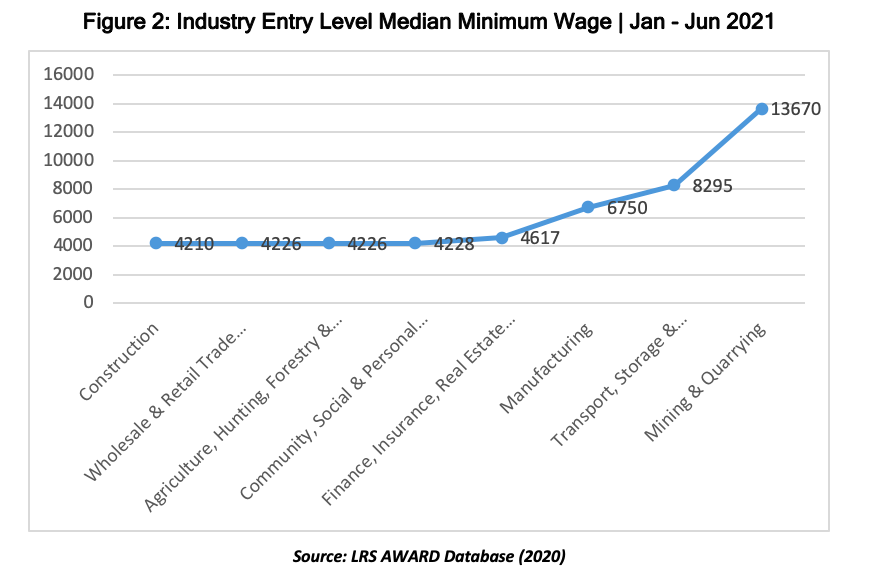 Figure 3 below shows median minimum wages and real median minimum wages. Take note that we used the May inflation of 5.2% to get the real median minimum wages.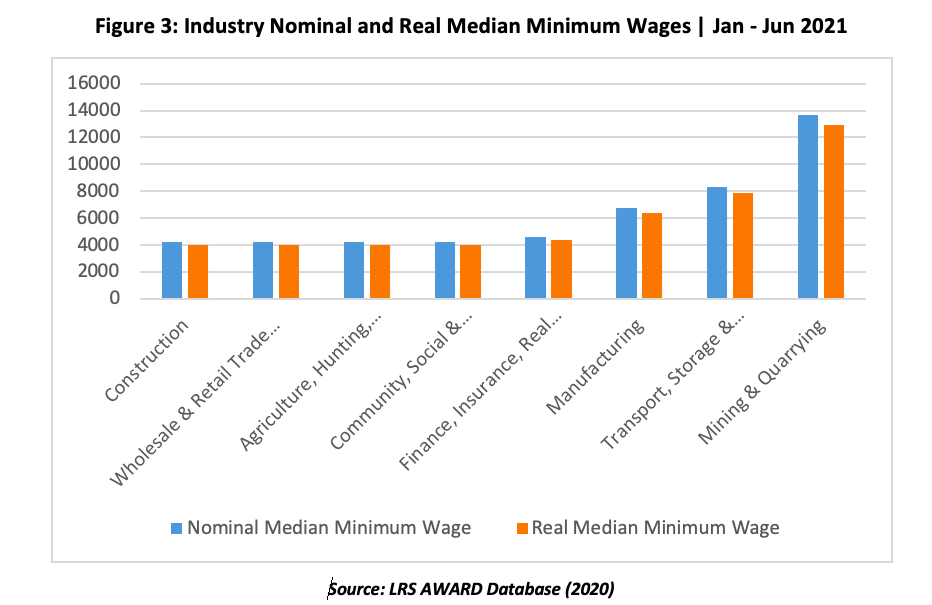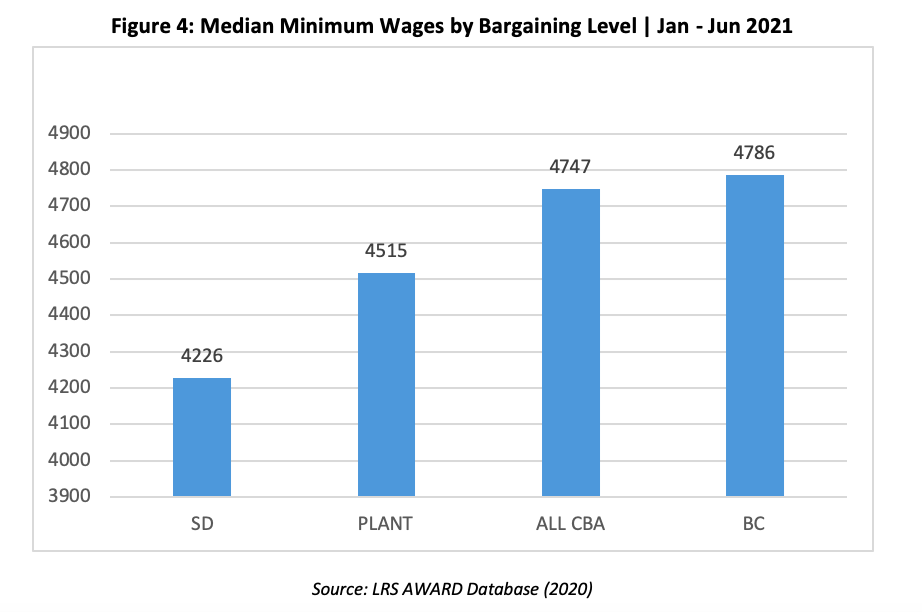 As seen in Table 1 below, some sectors scored big wage increases due to the adjustment of the national minimum wage (NMW) in 2021.
The minimum wage for farmworkers was adjusted to the national minimum wage, after earning 10% less in 2020. Farmworkers minimum wage increased from R18.68 in 2020 to R21.69 in 2021. This translated to an increase of R3.01 per hour (R3650 to R4226 per month) or 16.1%.
The minimum wage for domestic workers increased from R15.57 in 2020 per hour to R19.09 per hour in 2021. This translated to an increase of R3.52 per hour ((R3034 to R3720) or 22.6%.
The lowest minimum wage was found in the domestic worker sector at R3 034 in 2020 and R3 720 in 2021, while contract cleaning sector area A had the highest minimum wage recorded, at R4 450 in 2020 and R4 651 in 2021.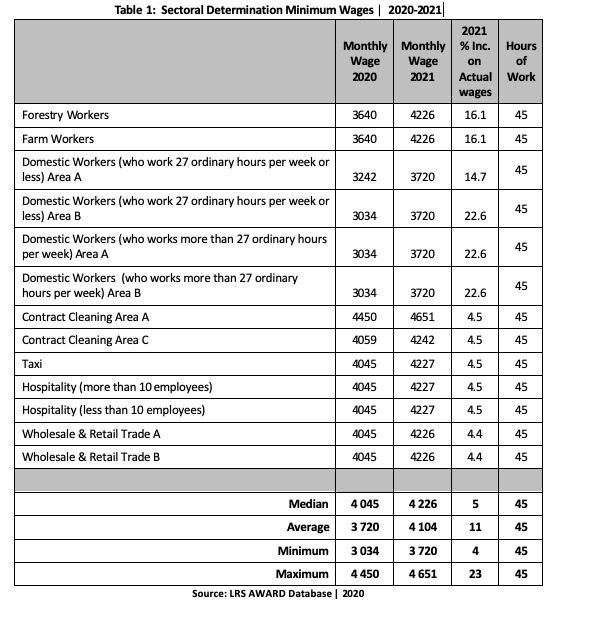 8 trade union bargaining strategies of the future