The national minimum wage is now R23.19 for each ordinary hour worked. This change took effect on 1 March 2022 and represents an increase of 6.9% from the minimum wage set in 2021.
Importantly domestic workers reached equalisation. Under the National Minimum Wage (NMW) Act, the minimum wage for domestic workers was initially set at 75% of the NMW in 2020. The National Minimum Wage Commission recommended that domestic worker salaries be increased to 100% of the national minimum wage in 2022.  
 Pinky Mashiane (inset below), President of United Domestic Workers of South Africa, says the minimum wage has affected collective bargaining and jobs in the domestic work sector.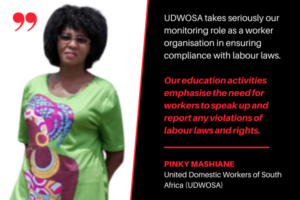 How does a national minimum wage affect workers in the domestic work sector?
Firstly, we welcome the decision by the Minister and the National Minimum Wage Commission to equalize the national minimum wage and adjust it so that domestic workers can earn what all other workers will learn in 2022. From 1 March, domestic workers will earn R23.19 for each ordinary hour worked, a 21.5% increase.
We want to point out that this national minimum wage is not a living wage. But a wage floor means something for the exploited and underpaid domestic worker. Domestic workers – who previously earned very low pay  – benefit from the minimum wage. It must be enforced and all employers should comply.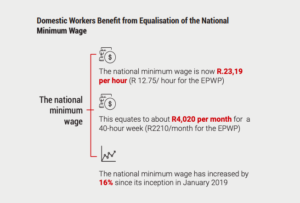 How will the minimum wage affect the conditions of employment for domestic workers?
The working conditions of domestic workers might be affected by the national minimum wage. The unpaid overtime issue could worsen. The hours of work could increase to abnormal. Some workers could also lose their jobs. On the flip side, the labour legislation offers recourse in many instances.
How has the national minimum wage affected collective bargaining in the domestic work sector?
UDWOSA has educated members on how to negotiate for issues with employers. Employers know our view on the minimum wage through our commentary on various platforms, including the media.
We have engaged with employers individually and through their organisations. With the mandate and permission of domestic workers, we explained the meaning of the national minimum wage and the importance of having wage floors. A minimum wage offers a starting place – to new employers and underpaying employers – from which to negotiate. UDWOSA is concerned about the employers that have threatened to reduce the salaries of domestic workers who earn more than the minimum wage. It's considered unfair labour practice for an employer to reduce the salary of a domestic worker who earns above the minimum wage. UDWOSA will take up the cases and defend our members.
Nevertheless, we acknowledge and appreciate employers who pay their workers more than the national minimum wage. It demonstrates that these employers understand the plight and the background of domestic workers. Like other workers, domestic workers contribute to the growth of the economy in various ways, including through our service, paying rent and buying food and public transport services.
How will equalisation affect employment in the domestic work sector?
Some domestic workers have been threatened with layoffs. Employers claim they cannot afford to pay the national minimum wage. We advise that employers find other ways of handling the issue, for instance, reducing the working days of their workers. A domestic worker will then have the time to look for part-time or piece jobs to supplement the income.
Also, we are aware that the campaign for not complying is driven by specific groups of employers and associated organisations. We have seen their attempts on social media to push for layoffs and reduced pay. Some are even planning to get rid of their workers and hire new workers as cheap labour. Yet, cheap labour often represents the gross abuse of workers' rights and danger, especially for domestic workers.
Is the union effectively advocating for proper enforcement of laws and international conventions?
The department of employment and labour is responsible for implementing, enforcing compliance and providing education. UDWOSA works closely with the department to ensure the national minimum wage works for domestic workers. We urge labour inspectors to now focus on the domestic work sector. The union can provide employer databases to assist the inspectors looking to contact the employers of our members.
We take seriously our monitoring role in ensuring compliance with labour laws. Our education efforts emphasise why it's important for workers to speak up and report any labour violations and gender-based violence at the workplace.
UDWOSA has built working relationships with different employer organisations to facilitate awareness and education about legislation, rights and compliance. For example, the union signed a Memorandum of Understanding with the National Employers Labour Association (NELA) and is working with YesDomestic, an employers' organisation.
Domestic workers' unions will continue to organise and get recognition and rights for their members. We have done it through various campaigns, some focused on legislation at national and international levels, including:
Gender-based violence is a big issue for domestic workers and especially due to the nature of their workplace. The union's message is clear – that we cannot tolerate gender-based violence in our workplaces and in society.
In a Gauteng court, we are supporting a domestic worker who was beaten by her employer's son.
We will support a domestic worker who is a rape survivor to lodge a criminal case at the local police station.
Also read:
Questions and answers about the national minimum wage review – An interview with Trenton Elsely, Commissioner, National Minimum Wage Commission