The Inflation Monitor is our simplified version of the latest inflation data. It is designed to support negotiators and the union's bargaining process.
PRICE INFLATION: Cost of living
Inflation:

The rate at which prices increase over time, resulting in a fall in the purchasing power of money.

Measured as an annual percentage increase (for example, December 2021 to December 2022). Almost always presented

as an annualized number covering the previous 12 months.
The headline annual inflation rate increased to 7% in February 2023 from 6.9% in January 2023. The Consumer Price Index (CPI) increased by 0.7% month-on-month in February 2023.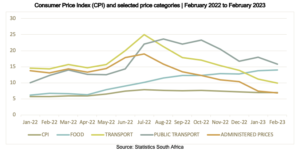 The food price
The food price increased to 14% in February 2023 from 13.8% in January 2023.
Transport inflation
Transport inflation declined to 9.9% February 2023 from 11.1% in January 2023.
Public transport
Public transport inflation decreased to 15.8% in February 2023 from 18% in January 2023.
The administrator's price
The administrator's price (school, telephone fees, electricity, trains, and petrol/paraffin) declined to 6.8% in February 2023 from 7.4% in January 2023.

Get the February issue of the Inflation Monitor
for the full inflation statistics (PDF).
The Negotiator's Checklist
: Questions to ask when
dealing with inflation in wage increases
What is the wage increase percentage that is on the table?
What is the latest rate of inflation?
What is the trend in inflation over the last 6 months or more?
What does it tell us about the likely inflation rate over the next 12 months
Are there any other reasons why inflation might increase or decrease significantly in the coming months?
Is the wage increase greater than inflation?
How much of the increase is left after inflation?
How much do we want the buying power of the wage to increase by?
Related articles:
Related resources: