What is a collective bargaining agreement?
A Collective Bargaining Agreements (CBA) is an agreement negotiated by the trade union and the employer. It is a written document reached between unions and employers through collective bargaining in any sector.
DEFINITION

Collective bargaining: ILO Convention No. 154 defines collective bargaining as referring to all negotiations which take place between an employer, a group of employers or one or more employers' organisations, on the one hand, and one or more workers' organisations, on the other, for:

(a) determining working conditions and terms of employment; and/or

(b) regulating relations between employers and workers; and/or

(c) regulating relations between employers or their organisations and a workers' organisation or workers' organisations."
What is the purpose of collective bargaining agreements?
Collective agreements do the following:
Regulate the working relationship
Outline the issues agreed upon at the bargaining table
Provide a dispute mechanism should a conflict arise between the parties bound by the agreements
Stabilise the labour sector by holding parties accountable to the agreed issues
Strengthen labour relations and act as a guideline of how parties must behave in the relationship
Define what parties are entitled to, for example, wages and conditions of employment.
What are the requirements of a collective bargaining agreement?
 A collective bargaining agreement must be in writing and signed by both parties. The agreement must state the following provisions:
Parties to the collective agreement
Scope
Worker organisation rights. These include access to the workplace, enforcing check-off arrangements (for union subscriptions) and bargaining with the employer.
Grievance procedure
Duration of the agreement
Signatories to the agreement
Types of collective bargaining agreements
 Agency Shop Agreement: requires employers to deduct agency fees from the wages of employees who are not members of the union.
Close Shop Agreement: requires non-union workers to join the union or face dismissal.
Recognition Agreement: names the union or unions that have the right to represent and negotiate for employees in a particular workplace.
Substantive or wage agreements:  regulates jobs, pay and conditions.
What happens to collective bargaining agreements after signing?
Trade unions operate in different ways when it comes to signing collective agreements. The Regional Secretaries or officials sign CBAs. The national agreements are kept at the head office and plant or company-level agreements in regional and local offices.
The process of managing regional collective bargaining agreements is not well coordinated. Not every signed agreement reaches the union office. That is because the officials who sign the CBAs might be on the road servicing members of the union. In some workplaces, shop stewards bargain with employers and sign agreements and then fail to share them with the union. Also, some CBAs lack pertinent information. For instance, an agreement might only show the names of the parties, implementation date and wage increase. Agreements lacking the relevant information can impact the ability of negotiators in particular to develop effective strategies in collective bargaining.
On the flip side, national-level agreements such as bargaining council agreements are well-managed. Bargaining council agreements are signed by national negotiators, heads of collective bargaining units or General Secretaries. The CBAs are accessible on the websites of the bargaining councils and the unions.
Challenges in managing collective bargaining agreements
Many unions are still using outdated filing systems. In the age of email and the Internet, some organisations still handle large amounts of paper documents and files. Hard copies of CBAs often lack backups in soft copies.
Faxing is still used in many trade unions offices. The problem is that a lot of information can be lost in the process when machines are not working.
The filing of collective agreements is done by union administrators, but often officials or shop stewards take them and don't return. Moreover, old CBAs (which are valuable intellectual assets) are archived in storage or at worst discarded as if they have no relevance to the union.
Overcoming the CBA information management challenge: Some measures to try
Poor management of the information generated by collective bargaining results in fragmentation of knowledge. Yet the knowledge of collective bargaining and of workplaces is one of the greatest assets of unions. Here are some suggestions of how unions can start to develop efficient information management strategies:
1. Understand the different aspects of managing information
Who signs agreements?  Is there a protocol for where to send CBAs? Do they get sent? If not, why? Are they filed and by who and where? How are they filed? Is there a list of priority companies? If I asked for agreement x, would you be able to retrieve it effortlessly?
2. Invest in technology
The union leadership need to invest in new technologies that benefit their operations and staff. Improved systems of managing union information must be a priority.
3. Invest in training of administrators and officials
Officials and administrators at the local offices need to understand the different information contained in collective bargaining agreements. Emphasise the need for consistently capturing and sharing information with relevant people and across the organisation. Online tools, for example, can offer collaboration in capturing and sharing information.
4. Improve the storage processes
Proper filing of collective bargaining agreements can help to improve the quality of information on collective bargaining. The ability to retrieve wage settlements information for analysis, report writing, and presentation are crucial in preparing for negotiations. Together with unions, the Labour Research Service manages the agreements database (AGREED), which is an example of an online repository of CBAs useful for research and education. AGREED has 963 bilateral, plant-level and global-level agreements that can be freely accessed, downloaded and shared.
What can improved information management enable?
Analysis of the outcomes of the trade unions efforts to represent workers through collective bargaining;
Reflection on settlement trends;
Knowledge of what is happening at the plant level and at smaller enterprises;
Measuring progress against union resolutions and other indicators;
Informed preparation for collective bargaining and cross-referencing of conditions;
Research and reflection on union strategy, goals and outcomes.
Conclusion
Collective bargaining agreements are one of the most important documents in a worker organisation. They outline the wages and conditions of employment agreed to by the union and the employer on behalf of workers. Unions must explore effective strategies to managing collective bargaining information. Shop stewards, officials and workers need to know the content of collective bargaining agreements.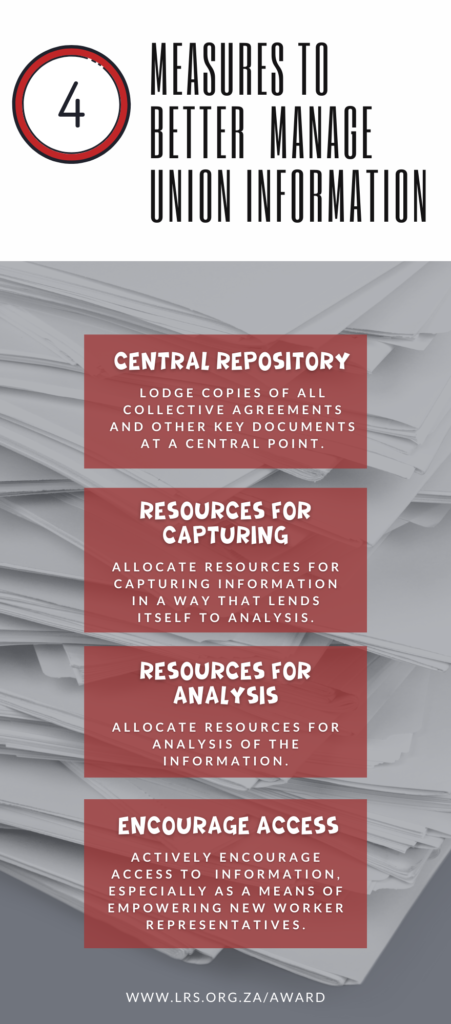 2021 LRS Collective Bargaining Strategy Input