Tumelo Mokoena (33) is a member of FEDUSA's youth committee and a worker representative at United National Transport Union who says progressive workplace policies have contributed to a positive experience as a worker at Transnet and as a trade union representative.
How does FEDUSA's resolution on LGBT+ rights affect your workplace? 
The federation and affiliates are promoting the resolution on securing LGBT+ rights. The impact can be seen on two main fronts. The first is that there is a better understanding and use of appropriate language and terminology when talking about the issues and concerns of workers who are LGBT+. The second is a greater awareness of the potential of the ILO Convention 190 in the struggle against discrimination, homophobia and transphobia in the world of work. However, more needs to be done to popularise the resolution at grassroots level. This means that affiliates need solid strategies to ensure all workers know about the LGBT+ resolution. This will be the beginning of the promotion of inclusiveness at all levels. The Labour Research Service (LRS) offers crucial support to the education work of the federation and affiliates. In 2022, I participated in LRS online and offline dialogues on negotiating inclusivity and against discrimination and on using C190 as a tool for protecting the rights of LGBT+ workers and young job seekers from discrimination and violence. As a workers' representative in UNTU, I have gained the knowledge and confidence to advocate on this issue. This is especially true as LGBT+ people still face challenges despite the existing laws.  
What is the context of your work place? 
Transnet has transformed a great deal over the last eleven years. They are men, women and young people working at the organisation. I work in the largest division as a remote train controller. Most of my interaction is with people who work directly with the trains, such as train drivers, maintenance staff and shunters. This specific work is traditionally associated with long hours and male workers. We have a lot of women in my department. But the people I represent on a regular basis are the men working outside. 
How did the training help you at an individual level?
The LRS offers worker representatives spaces to share experiences, get informed, and begin the actions needed to change organisations and build advocates for LGBTI+ rights. For example, I have had informal conversations with colleagues about what it is like being a queer worker within our specific context. My experiences have made me more sensitive to the people around me, especially those who may not identify with the LGBT+ community in an open or visible way. In the past, I avoided getting involved in work or discussion related to such issues because I would feel overwhelmed by my struggles. This mindset was problematic because I used to see my sexuality, and in particular being gay, as an additional burden on top of being black and a woman. So I didn't talk about my sexuality because I didn't fit into people's stereotypes. I didn't feel the need to be out at work. And I don't think there's any obligation for individuals to be out.
I'm more comfortable discussing gender issues, so I am now part of these conversations. I'm also creating safe spaces where people who want to discuss these issues can feel comfortable approaching me. In fact, I recently had a long conversation with a gay man who said he felt out of place in the workplace. It's reassuring to know that sometimes it takes is someone who understands your struggles and has been through similar experiences.
How do you respond to discriminatory language in different spaces? 
I have become more aware that language can be offensive, especially on social media. I've learnt a lot about being more sensitive and appropriate in my interactions with people. At first I struggled to understand and label non-binary people. But I met a trans person in the workshop. I have learned not to misgender when a trans person is in the room. One important lesson I've learnt is that in many African languages, gender is not explicit when describing a person. There is no difference between 'she', 'her' or 'him' when talking about someone. This understanding has helped me a lot, especially with non-binary people who prefer to be referred to as 'they' and 'them'. This knowledge is crucial on social media, where I encounter and learn different perspectives.
How do you see the ILO Convention 190 as a tool to protect LGBTI+ workers and young jobseekers from discrimination and violence? 
At the start, C190 was a document I came across without much personal significance. However, the LRS has been instrumental in shedding light on its essential aspects and creating a platform for in-depth discussions. I have learned more about C190 through these discussions. It is more than just a document I have read and recognise as an ILO convention that South Africa has ratified. Instead, C190 became a guiding principle in my life. One particular aspect of C190 that caught my attention was how it dealt with violence against women in the world of work. C190 covers incidents not only during official working hours. It also covers travel to and from work and work events. I had also overlooked jobseekers and volunteers as remote individuals that I couldn't access or help directly. They are not officially part of an organisation. But they are still vulnerable to violence. I am inspired to be mindful of the challenges for jobseekers and to create a welcoming and supportive environment for them whenever possible.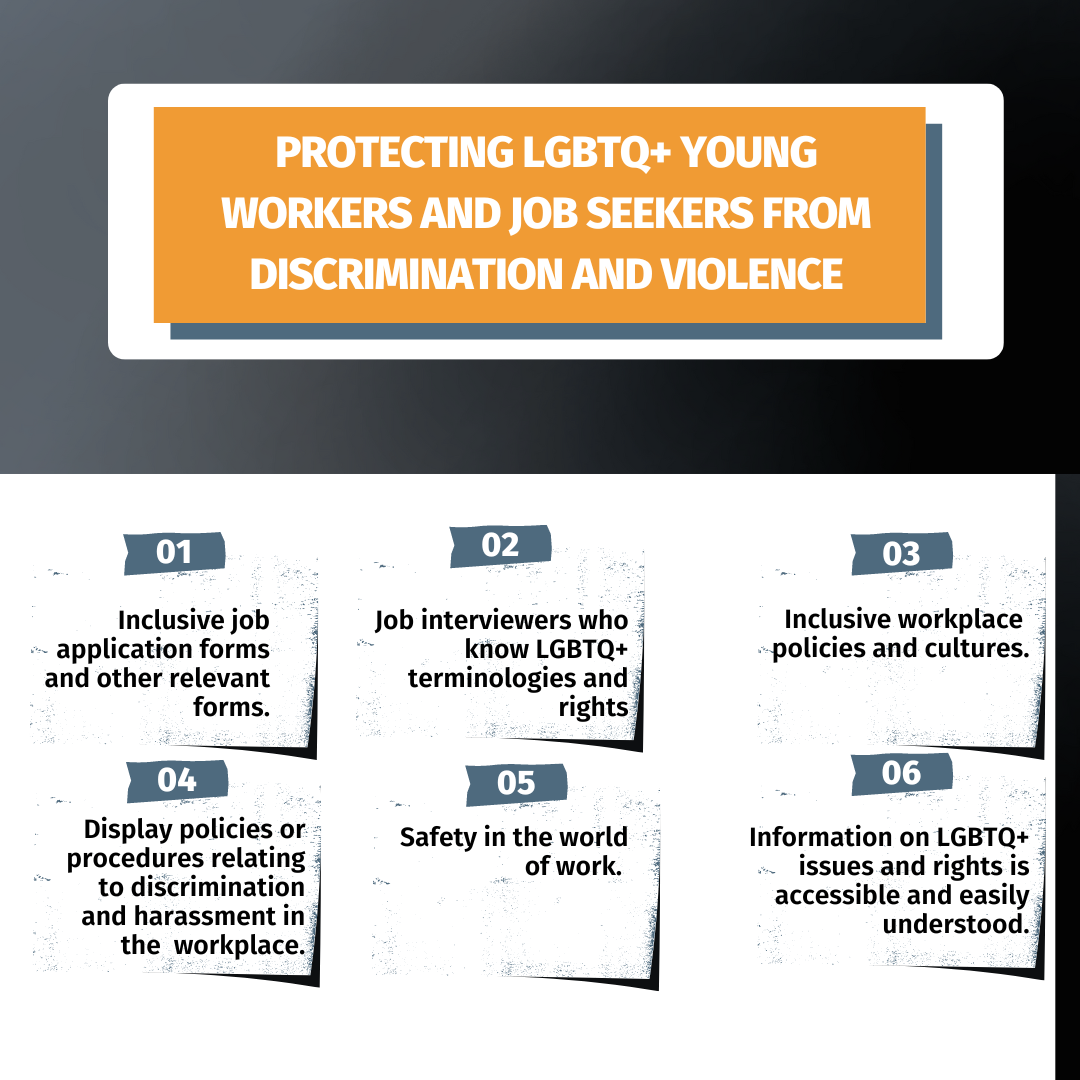 What does a culture of gender equality in the workplace look like to you?
Men and women workers have different experiences of socio-economic challenges. Women experience these challenges more often than men. If a woman needs to attend to personal matters, people tend to dismiss her concerns and suggest that she should leave. We need to be sensitive to the issues that individuals face. This was particularly evident during the discussion on grants, when it was pointed out that women may need extended leave for reasons such as pregnancy. Our biases often influence our perception of situations, for example, in recruitment, disciplinary and representation processes. We need to have a broader understanding and consider the existing unique challenges. Change starts with me as an individual and as a representative. By changing how I think and understand, I'm responsible for spreading the message and encouraging others to do the same.
What is the hallmark of the worker leader who is effective in the promotion of inclusivity? 
The effective worker leader is a committed and courageous advocate for the rights and well-being of marginalised groups in the workplace. The effective worker leader seeks to articulate issues and demands that can often fall off the trade union agenda. The effective worker leader works with allies in inclusive bargaining, but recognises the nuanced perspective that people with lived experience bring. The effective worker leader recognises the role of education in challenging social norms and that raising awareness and understanding is crucial in the fight against homophobia, transphobia and other forms of discrimination. This is even more important in male-dominated workplaces, where being different can be a taboo. Having a representative who is visibly different and who is passionate about LGBTI+ rights can have a significant impact.
VIDEO | Why I feel safe at work
In this video, Tumelo talks about LGBTI+ rights in the world of work and challenges the negative stereotype that trade unions are only interested in wage negotiations and member contributions.